The second law of thermodynamics states that the tendency in any isolated system is to slide towards a state of increasing randomness i.e. entropy.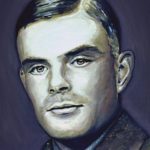 70 years ago Alan Turing combined the Entropy theory from Thermodynamics with compute power and helped win the second world war by famously cracking the Nazi enigma code, saving the lives of millions of people in the process. Proving the viability of the entropy method  in solving even seemingly impossible problems.
In 1948, Claude Shannon "The Father of Information Age" formalized Turing's invention in to a simple mathematical formula:

Since then Entropy method has been widely used in fields with vast amounts of data, many unknowns and where accurate predictions are important or critical. Application of the entropy method range from algorithmic finance, to mass-surveillance, information security and healthcare.
Nameles is the first entropy based invalid traffic and traffic anomaly detection method and is an open source initiative with years of development work already invested by a community of researchers, non-profits and academics.
– the first ever open source verification solution
– the first 100% transparent verification solution
– the first media format agnostic verification solution (banner, video, in-app)
– the first device agnostic verification solution (desktop, tablets, mobile)
In actual large scale real-time use, Nameles have been proven to have a very low total-cost-of-operation (TCO) [1][2].
Learn more about entropy here.
[1] Entropy Method for Detecting Invalid Traffic at Scale
[2] Economics of Invalid Traffic Filtering (published in feb-17)